Client Reviews
---
In just a few hours Kim transformed my hair into something of wonder...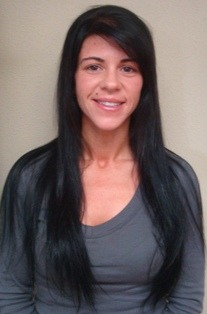 After Hair Extensions, front view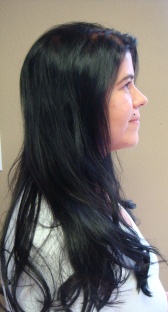 After Hair Extensions, side view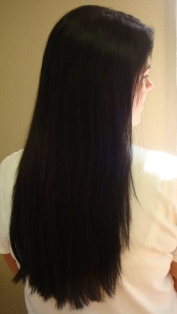 After Hair Extensions, back view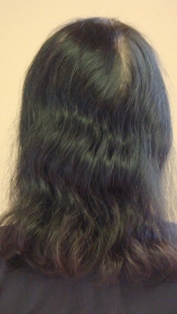 Before Hair Extensions, front view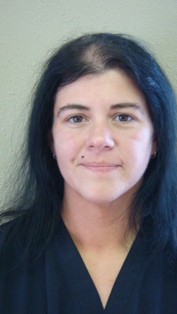 Before Hair Extensions, side view
Overall Excellent
I have been a client of Kim Wardle's for nearly a year now. In my 20's my hair began thinning and became very fine. I was upset, too young to accept what was happening to my hair and wanted it back! I began looking for salons that offered extensions but I didn't know where to go or who to trust with what little hair I had left.

I found Kim's website and loved her work. Her website displays a lot of her work, unlike other salon websites that just show one or two pictures of a hair model, these were real people, her clients, and I liked that. So I made the consult appointment, which is free, I figure no risk but my time : )

Within minutes of meeting Kim I knew she was what I had been looking for. She looked at my hair and knew right away which method would be best and explained to me not only the initial cost of placement but the maintaince cost and how often. I loved that she was upfront about that, other places I had talked to were not very honest about the maintaince aspect of having hair extensions, both cost and products to make sure your hair stays in great condition.

In just a few hours Kim transformed my hair into something of wonder, it was almost like a fairy tale. I felt like a princess that had just been transformed by a magical spell. And that is closer to the truth than not, Kim's work is magical, I was thrilled beyond belief with my hair, and one year later I am still just as estatic!

Kim knows what she is doing, she cares about what you want, and she wants you to be happy with your hair. She is very educated in her trade and stays up to date on new products and techniques within the industry.

One of the best parts is that no one can tell I have hair extensions. Obviously people who see me every day knew something was very different but they didn't know what I had done! My mother in law who used to be a hair dresser now routinely askes me if I am still wearing the entensions, she can't even tell they are there.

Kim will color match perfectly and her application technique is absolutly flawless. If you are considering hair extensions, please go see Kim, you will be so happy you did! Her salon is clean and stylish and Kim is a sweetheart! So much to say, I know long review, but I really can't say enough about Kim or her services.

Just go see her!